This is what you'll get with our special IBO player subscription:
You'll get unrestricted access to tens of thousands of channels from across the world with an IBO Player subscription, including Bein Sports, Fox, CBS, BBC, ESPN, and a slew of other well-known networks.
All of the channels will be accessible in HD, FULL HD, and 4K resolution, allowing you to select the best option for you based on your internet connection speed. At the same time, you'll get access to one of the largest VOD collections, with the most recent films and TV episodes accessible in HD, 3D, and even 4K.
IBO PLAYER subscription
IBO PLAYER Subscription is a service that provides you with access to thousands of live TV channels as well as a video on demand library that includes the most popular movies and programs!!
IBO PLAYER Subscription also includes time-shifted live TV, allowing you to catch up on anything you may have missed.
A high-quality IBO PLAYER subscription is frequently beneficial.
For football enthusiasts who want to watch the seasons, the IBO PLAYER Subscription is recommended. You'll have a terrific time during the season with the 12-month subscription.
Everyone in the family will enjoy the IBO PLAYER Subscription. There is something for everyone in the family to enjoy.
Several international stations broadcast everything you want to view.
The video on demand library offers the most recent movies and TV series if you prefer binge-watching.
IPTV LIT is glad to offer you a subscription to the IBO PLAYER.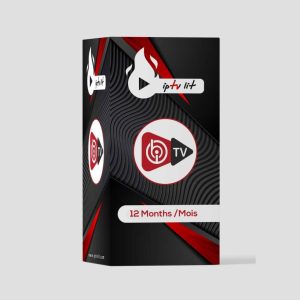 See other IPTV Subscriptions (here)
Android App: IBO PLAYER
The IBO PLAYER app for Android phones is now available. Android Boxes are great for IBO PLAYER because they can effectively adjust stream quality. The software is available for immediate download from the Google Play Store.
After you've downloaded the app, enter the code we'll provide you when you sign up for the IBO PLAYER membership.
IPTV IBO PLAYER on Smart TVs:
When it comes to the whole experience with colors and noises, smart TVs are the best devices for getting into your IPTV subscription.
If you want to use a Smart TV to access your IBO PLAYER subscription, please contact us. Our customer service team usually answers quickly.
The following are the internet requirements for IBO PLAYER subscription:
The IBO PLAYER subscription is accessible from anywhere in the world. It works in almost every country on the planet. As long as you have access to a fast internet connection, you may utilize your IBO PLAYER subscription.
The internet speed must be at least 4Mbs/s for the subscription to work correctly.
Check that your connection speed isn't preventing the subscription from reaching its full potential. Check to determine if any other devices in the house are hogging the internet connection.
If you're using Wi-Fi to connect your device, we highly suggest you to use a LAN cable instead.
You may test your internet speed on this page.
IBO PLAYER Frequently Asked Questions:
-May you tell me where I can find m3u links or IBO PLAYER codes?
The M3U connections and codes are included in the IBO PLAYER membership. When you purchase a subscription, you will receive everything you require.
What's the deal with the channels not loading?
To make sure everything is in working order, you'll need to double-check a few things first:
You may test their operation on your PC using the VLC media player. Make sure your PC's M3u connection is working.
Make sure the app is switched on.
To refresh the DNS, restart the router.
Restart IBO PLAYER and type the URL again.
Is there a chance I'll get any devices as part of my subscription?
There is no equipment or gadgets included in the IBO PLAYER membership. The subscription can only be used to access IPTV services.
Is there a money-back guarantee?
We provide a free 24-hour IPTV trial; it is encouraged that you take advantage of this offer before purchasing any of our services. You may contact us for a complete refund if you purchased one of our subscriptions and the ID we issued you did not function for any reason. When we find that your ID is inoperable, our support staff will evaluate your claim and reimburse you.
With a single membership, how many devices can you use?
Per subscription, you are only allowed to have one device. Make sure you only use the subscription on one device at a time.
Are there any concerns that might arise?
The servers used by IBO PLAYER are incredibly trustworthy and capable of managing large amounts of traffic. However, modifications may occur from time to time, resulting in the service being unavailable for a brief period of time. This isn't a long-term problem.
IBO PLAYER offers free tech support 24 hours a day, 7 days a week for the length of your 12-month membership.
-Additional information: The membership code will be emailed to you within a few minutes.
For further information Contact us