SMART IPTV PREMIUM SUBSCRIPTION
SMART IPTV PREMIUM SUBSCRIPTION
SMART IPTV PREMIUM SUBSCRIPTION include the following benefits: 
In a few of hours, you'll have your order (2 hours max)
40,000 channels from across the globe and 6,000 VOD movies and TV shows from around the world (including the United States, Arabic countries, and Asian countries).
The best customer service and support on the market
Activation is fully supported regardless of device kind.
The greatest IPTV servers, with high-definition feeds and no buffering.
What you should know about SMART IPTV Premium Subscription?
Smart IPTV Premium Subscription is a service that gives you access to thousands of live TV channels from across the world, as well as a video on demand library with the latest movies and series!!
In addition to those two features, Smart IPTV Premium Subscription includes time-shift live TV, allowing you to catch up on what you have missed.
The Smart IPTV Premium Subscription's outstanding quality is always a plus.
Smart IPTV Premium Subscription is suggested for football fans who wish to keep up with the seasons. With a 12-month membership, you will be able to fully appreciate the excitement of the European seasons.
The Smart IPTV Premium Subscription provides something for everyone. Everyone in the family can find something to watch.
There are dozens of international stations that show whatever you want to see.
For those who enjoy binge watching, the video on demand library has the newest movies and TV shows.
IPTV LIT is pleased to provide you with Smart IPTV Premium.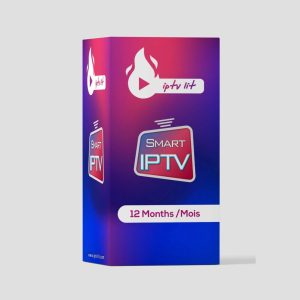 Premium Smart TVs with Smart IPTV
Smart TVs are the ideal devices to utilize for the Smart IPTV Premium subscription in terms of total audiovisual experience.
Please contact us if you wish to use a Smart TV to access your Smart IPTV Premium Subscription. Our customer service team generally responds fast.
Android App for Smart IPTV Premium
All of the current Android OS smartphones can use the Smart IPTV Premium software. Because they can manage the high quality of the feeds, Android Boxes are ideal for Smart IPTV Premium. You can simply download the app from the Google Play Store.
You'll need to enter the info we give you once you acquire the Smart IPTV Premium subscription after you download the app.
Check here our available IPTV subscriptions
Smart IPTV Premium Subscription requires access to the internet.
The Smart IPTV Premium membership provides access to content from all around the world. It works in almost every country on the planet. You may enjoy your Smart IPTV Premium subscription as long as you have access to a fast internet connection.
The minimum internet speed necessary for the subscription to function properly is 4Mbs/s.
Check to see whether your internet speed is preventing the subscription from performing to its maximum ability. Check to see if any other gadgets in the house are consuming a lot of bandwidth.
Also, if you're using WIFI to connect your device, we strongly advise you to utilize a LAN cable instead.
Here's a website where you can test your internet speed.
Smart IPTV Premium Frequently Asked Questions:
Where can I get Smart IPTV Premium m3u links or codes?
When you buy a membership, you get everything you need. The Smart IPTV Premium membership includes M3U connections and other useful information. Take a look at the free trial.
Why aren't the channels loading?
To make sure everything is running properly, you'll need to double-check a few items first:
Make sure the M3u link is active on your computer by checking it with VLC player.
Make sure the app is turned on.
To refresh the DNS, reboot the router.
Restart Smart IPTV Premium and re-enter the URL.
Will I get any gadgets as part of my subscription?
The Smart IPTV Premium subscription does not include any hardware or associated devices. Only IPTV services are available with the subscription.
Is it possible to get a refund?
We provide a FREE IPTV TRIAL for 24 hours; it is recommended that you sample the trial before purchasing any of our services. However, if you purchased one of our subscriptions and the ID we provided you did not work for any reason, you may contact us for a full refund. If we can confirm that your id isn't working, our support staff will verify your case and reimburse you.
How many devices may be supported by a single subscription?
You're only permitted to use one device per subscription. Make sure you're only using one device at a time with the subscription.
Will there be any potential issues?
Smart IPTV Premium's servers are extremely dependable and capable of handling massive volumes of traffic. However, changes may occur from time to time, causing the service to be unavailable for a little period of time. This is not a permanent situation.
– During the 12-month membership period of Smart IPTV Premium, free tech assistance is accessible 24 hours a day, 7 days a week.
Contact us if you need to know more about this service