VOLKA PRO 2 IPTV SUBSCRIPTION (X PLAYER)
VOLKA PRO 2 IPTV SUBSCRIPTION (X PLAYER)
The following are the benefits of a VOLKA PRO 2 IPTV subscription:
Bein Sport, BissTV, ; BBC, SFR 1, 2, 3; HD, CANALSAT, and many more are among the channels available with a VOLKA PRO 2 subscription.
All of the channels are available in HD, FULL HD, and 4K resolution.
You'll also have access to a video on demand library that includes the most recent hit movies and TV shows in HD, 3D, and 4K quality.
The VOLKA PRO 2 IPTV Subscription details:
VOLKA PRO 2 IPTV subscription is one of the most popular IPTV services available. The VOLKA PRO 2 IPTV subscription provides high-quality live TV channels as well as on-demand entertainment.
If you have a Samsung Smart TV, the VOLKA PRO 2 subscription is an excellent option. The VOLKA app's design complements the hardware of Samsung Smart TVs really nicely. You may use all of VOLKA PRO 2's IPTV features once you have a subscription and fast internet.
A VOLKA PRO 2 IPTV subscription gives you access to over 46,000 live TV channels. You may flick between all of the premium sports, documentary, women's, movie, and kids' channels, among other things. There would be something for everyone in the family to enjoy.
VOLKA PRO 2 IPTV subscription includes a video on demand VOD library with top-rated movies, TV shows, documentaries, and more. To keep things new, the lists are updated on a regular basis.
Shows and stations from all around the world are available in a variety of languages.
The cost of a VOLKA PRO 2 IPTV subscription is relatively low. The VOLKA PRO 2 IPTV subscription is one of the finest prices when you consider all of the features it provides. If you enjoy sports, a VOLKA PRO 2 IPTV subscription is something you will much value.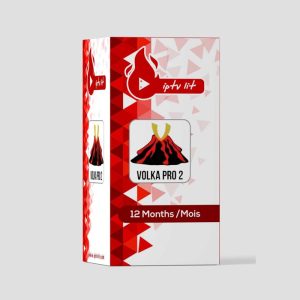 VOLKA PRO 2 IPTV subscription list of compatible devices:
The VOLKA PRO 2 program is safe software that may be used on a variety of devices. It's simple to set up on most operating systems. The following is a list of the most common devices that VOLKA PRO 2 can connect to.
One of the most simple ways to use your IPTV subscription is through your Smart TV. Samsung Smart TVs and LG Smart TVs are the most popular options throughout the world.
Using your computer to watch your IPTV subscription is also a good option.
Android Boxes are also ideal for using the VOLKA PRO 2 app.
The subscription may also be used on Android devices such as smartphones and tablets.
Apple OS devices are compatible with the VOLKA PRO 2 app.
These are the most widely used gadgets. Please do not hesitate to contact us if you have any queries.
More information on the VOLKA PRO 2 subscription:
The VOLKA PRO 2 subscription includes access to TVs and programs from all around the world. It also works in almost every country on the planet. You may view the VOLKA PRO 2 subscription as long as you have access to a fast internet connection.
For the subscription to function properly, the minimum internet speed requirement must be at least 4Mbs/s.
Check to see whether your internet speed is preventing the subscription from working to its full capacity. Check to see if any other gadgets in your house are using a lot of bandwidth.
In addition, if you're connecting your device through WiFi, we strongly advise you to utilize an Ethernet cable instead.
VOLKA PRO 2 Frequently Asked Questions:
Where can I get the VOLKA PRO 2 IPTV m3u link or Xtream codes?
The VOLKA PRO 2 membership will contain M3U connections as well as Xtream codes. Once you've purchased the subscription you desire, you'll get them.
To see all the available IPTV subscriptions klick here
Why aren't the channels loading?
You'll have the opportunity to double-check a few items to ensure everything is in working order:
Make sure the M3U connection is up and running. This may be done on your computer using the VLC media player.
Make sure the app is turned on.
To refresh the DNS, reboot the router.
VOLKA PRO 2 should be reset and the codes entered again.
Will I get any gadgets as part of my subscription?
There is no hardware included in the VOLKA PRO 2 subscription. Only IPTV services are available with this subscription.
Is it possible to get a refund?
Once you've purchased a subscription, you can't get a refund. Make certain you choose a subscription that is appropriate for you. Also, have a look at the IPTV Free Trial.
How many devices may be supported by a single subscription?
You are only permitted to use one device per subscription. Make sure you only use one device with your membership.
Is there something wrong?
VOLKA PRO 2 IPTV's servers are extremely reliable and, for the most part, handle massive volumes of traffic. However, upgrades may occur from time to time, causing the service to be unavailable for a short period of time.
– During Volka pro 2  12-month subscription membership period, free tech assistance is provided 24 hours a day, 7 days a week.