The following are the benefits of a NET IPTV subscription:
In a few of hours, you'll have your order (2 hours max)
THOUSANDS of channels from across the world, as well as THOUSANDS of VOD, movies and TV shows from around the world (including the United States, Arabic countries, and Asian countries).
One of the greatest customer service and support on the market.
No matter what sort of gadget you have, full activation support is available.
The greatest IPTV servers, with high-definition feeds and no buffering.
"IPTV LIT" can provide you with the best IPTV subscriptions. The Net IPTV subscription is an excellent choice for a variety of reasons. The Net IPTV program gives you access to all of the top channels on the planet for your Smart TV.
NET IPTV is optimized for optimal performance on smart TVs and is specifically intended to provide the greatest experience.
The software may also be used on numerous displays.
The feeds are available in 4K, HD, and FULL HD resolutions. The live feeds are of varying quality depending on the station.
You can check (here) for further IPTV subscriptions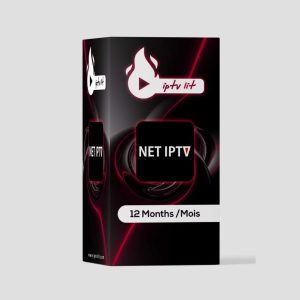 NET IPTV supports the following devices:
The NET IPTV APK app is a high-performance program that does not require high-end hardware. You almost certainly already have a gadget in your home that can handle your IPTV subscription.
The following is a list of common NET IPTV devices.
Smart TVs are the greatest equipment for anyone who want to watch IPTV. Smart TVs from Samsung and LG are among the most popular choices throughout the world.
The app is also compatible with PCs. You have a lot of options with computers.
Many people use Android Boxes, which are also fantastic alternatives.
Android smartphones and tablets are examples of Android devices.
The Net IPTV app is compatible with Apple gadgets.
The NET IPTV subscription can also be utilized with devices that aren't on the list.
More information on NET IPTV Subscription may be found here.
The NET IPTV subscription is available globally and works practically anywhere. You may enjoy the Net IPTV subscription at its best as long as you have access to a fast internet connection.
For the service to perform properly, the internet speed requirements must be at least 4Mbs/s. You'll be able to watch your channels and VOD without buffering this way.
Furthermore, when several devices share the same router, the internet connection becomes slower. A
Furthermore, we strongly advise you to utilize a LAN cable rather than WIFI because it is more reliable.
But first, use this website to check your internet speed.
Frequently Asked Questions about NET IPTV Subscriptions:
What happened to the m3u link or the Xtream-codes?
When you buy a membership, you'll get all of the necessary codes and links. You will receive everything you require as soon as you request the subscription.
I've followed all of the steps, but the channels are still not working?
You'll need to double-check a few items to make sure everything is in working order:
Check to see if the M3u URL you were given is still active. This may be done on your computer using the VLC media player.
Make sure your app is up and running.
Restart your internet router if it hasn't done so already. DNS has to be updated every now and then.
Restart the Net IPTV link list from the beginning.
Will my membership include a device?
There's no need to buy anything additional if you already have a gadget that works with your NET IPTV subscription. All you need is your Smart TV.
Is it possible to get a refund?
We provide a free 24-hour IPTV trial; it is recommended that you sample the trial before purchasing any of our services. However, if you purchased one of our subscriptions and the ID we provided you did not work for any reason, you may contact us for a full refund. If we can confirm that your id isn't working, our support staff will verify your case and reimburse you.
What is the maximum number of devices that may be connected to a single subscription?
A single device is supported by a subscription. If you wish to view IPTV on many devices, you'll need to purchase a membership for each one.
Will there be any potential issues?
Smart IPTV Premium's servers are extremely dependable and capable of handling massive volumes of traffic. However, changes may occur from time to time, causing the service to be unavailable for a little period of time. This is not a permanent situation.
What should I do now that it's buffering?
When the app is buffering, take a 15-second break before playing the broadcast again. When the internet is sluggish, streams take time to load.
– During the 12-month subscription period of NET IPTV, free technical assistance is accessible 24 hours a day, 7 days a week.
If you have any adding questions don't hesitate to contact us
Additional information
| | |
| --- | --- |
| Duration | 1 Day, 1 month, 12 Months, 3 Months, 6 Months |