The following are the benefits of a SET IPTV subscription:
In a few of hours, you'll have your order (2 hours max).
Installation is simple.
3,500 channels from across the world, as well as a library of thousands of video on demand VOD movies from around the world (including the United States, Arab countries, and Asian countries).
High-definition television and video on demand.
The greatest customer service and support on the market.
No matter what sort of gadget you have, full activation support is available.
The greatest IPTV servers, with high-definition feeds and no buffering.
You receive access to THOUSANDS of TV channels, the greatest in the world, with a SET IPTV subscription. In addition to all of the premium channels, you get access to tens of thousands of video on demand (VOD) titles from a library that houses the world's most popular films and programs.
Furthermore, an IPTV subscription allows you to time-shift TV channels, allowing you to catch up on shows you missed.
If you're a sports lover who enjoys following European football/soccer leagues, SET IPTV IPTV is a must-have.
New movies and TV shows are added to the video on demand collection on a regular basis to keep things fresh. You'll have plenty of time to watch all of the series and movies you've always wanted to see.
Get a SET IPTV subscription and experience television on a whole new level. You only need a solid internet connection to get started. SET IPTV's servers are extremely reliable and can manage a lot of traffic.
The IPTV subscription for you is SET IPTV.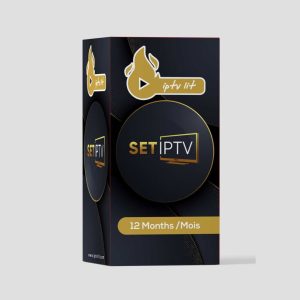 Compatibility of SET IPTV SUBSCRIPTION:
SET IPTV is compatible with all of the most popular operating systems and devices. The most prevalent ones are listed below.
Smart TVs: Smart TVs are the most popular IPTV devices because they provide excellent audiovisual quality.
Receivers: There are also good old receivers that can connect to the internet.
Android devices and Android boxes: IPTV subscriptions are compatible with devices that run on the Android operating system. Android Boxes, Smartphones, and Tablets are all on the list.
Computers are extremely powerful and provide the highest graphic and visual capabilities.
Other devices: The IPTV software and subscription are compatible with other devices such as the Amazon Fire TV Box, Nvidia Shield, and Apple OS.

SET IPTV subscription information:
The SET IPTV subscription is available in nations where individuals are not prohibited from obtaining them. You may enjoy your membership as long as you have internet that can handle the quality of SET IPTV.
The minimum Internet speed needed is 4 megabits per second. If you're experiencing buffering issues, it's most likely due to sluggish internet.
When a lot of devices in the house utilize the internet router, there isn't enough bandwidth for IPTV to operate. Check to see if any of your other gadgets are using up all of your internet.
Additionally, for a more consistent experience with the streaming, we recommend connecting to the router by Ethernet cable rather than WIFI.
Frequently Asked Questions about SET IPTV Subscription:
What happened to the m3u link or the Xtream-codes?
When you purchase an IPTV LIT subscription, we will provide you with all of the essential codes and connections. Our team usually responds within 2 hours of receiving your request for a subscription.
Even though I've followed all of the instructions, the channels aren't working?
First and foremost, you must ensure that the following items are in good working order:
Use your computer's VLC media player to see if the m3y link we provided is working.
Check to see if the app is active.
To refresh the DNS, restart the router.
Reset the SET IPTV app and its links to their default settings.
How many devices can a single subscription be used on?
You may only view with one device with this IPTV subscription. Contact us for additional information if you wish to use your membership on multiple devices.
What are the technological challenges that SET IPTV may face?
The servers used by the SET IPTV subscription are designed to manage heavy traffic volumes. The uptime is quite impressive. However, the service may be offline for a few minutes when upgrades are performed.
— SET IPTV offers free technical assistance 24 hours a day, 7 days a week during the 12-month subscription duration.
For further information about the subscription Contact us
Additional information
| | |
| --- | --- |
| Duration | 1 Day, 1 month, 12 Months, 3 Months, 6 Months |